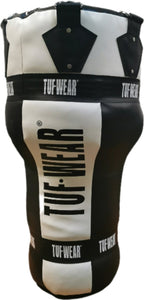 Tuf Wear
Balboa Angle Bag (3ft)
Normal price
$389.00
Special Price
$445.00
unit price
per
TUF WEAR Balboa Angle Bag (3ft)
Durable faux leather
Angle bag with a realistic body shape
Length: approx. 91 cm
Including metal rings and carabiners for attachment
TUF WEAR brand
Colour: two-tone
Features of TUF WEAR Balboa Angle Bag (3ft)
Robust faux leather
The outer material of the Balboa Angle Bag 3ft punching bag is made of artificial leather - a material that is characterized by its robustness, easy care and good value for money.

body-like shape
Typical of an angle punching bag, the Balboa Angle Bag 3ft punching bag also has a body-like shape, so that you can train particularly realistically.

Secure attachment
Effective training is only possible if you can rely 100% on your boxing accessories. Sturdy metal rings enable secure attachment.

TUF WEAR brand
This not only means that you get a punching bag from one of the most famous punching brands. The TUF WEAR brand also guarantees you a high level of quality.

The TUF WEAR Balboa Angle Bag 3ft punching bag is for
Endurance and coordination training
Reaction and speed training
Improving punching power and punch combinations
Training sessions that are as realistic as possible
Product details at a glance:
Punching bag made of durable artificial leather
body-like shape
Length: approx. 91 cm (3 ft)
2 color design
Fastening with metal rings, sewn
Train realistically and diversified
Boxing training without a punching bag? Inconceivable! With the Balboa Angle Bag 3ft punching bag from TUF WEAR, you choose a punching bag that is wider at the top and narrower at the bottom to mimic the human physique. With the Angle Bag - also known as an angle punching bag - you can carry out realistic training and practice the various punch combinations as if the Balboa Angle Bag 3ft punching bag were a real opponent. This not only offers you the opportunity to train uppercuts very realistically, for example, but also ensures varied boxing training overall, because you can vary between different punching bags.
Quality for full performance
Do you want to get the most out of your boxing training? Then of course you need a punching bag that you can rely on 100%. Thanks to the durable synthetic leather upper, the Balboa Angle Bag 3ft by TUF WEAR can take a beating. Artificial leather made of PU is considered to be very durable. In addition, it is easy to care for. After training, the smooth material is easy to clean. This in turn ensures that the Balboa Angle Bag (3ft) can have a very long service life. With a length of approx. 91 cm (3 ft), the Balboa Angle Bag is the right choice for classic boxing training, especially for smaller people. So that every boxer can train safely on the angular punching bag, it can be anchored to the ceiling with the help of stable metal rings at the top end.
FAQs
Why are Angle Bags so special?

The special thing about the so-called angle punching bags is already evident from the name: angle bags have a rounded shape in the upper area so that they look like a human body. This is how you train very realistically on the punching bag. This is ideal for perfecting your uppercuts and preparing for a competition, for example.

How big does a punching bag have to be?

The size of the punching bag depends on how tall you are and what boxing sport you do. In classic boxing, you tend to use shorter and thicker punching bags - unlike kickboxing, for example. The reason: In classic boxing you only work with your fists, without legs and feet. So you don't have to practice any kick combinations on the punching bag either. The ideal punching bag size in classic boxing is up to 120 cm.

For whom is a 90 cm punching bag suitable?

With the Angle Bag (3ft) you get a punching bag with a length of approx. 90 cm. This makes the punching bag ideal for smaller boxers.

---