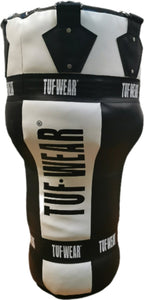 Tuf Wear
Balboa Angle Bag (4ft)
Normal price
$428.00
Special Price
$450.00
unit price
per
TUF WEAR Balboa Angle Bag (4ft)
Durable faux leather
Angle bath with realistic body shape
Length: approx. 121 cm
Including metal rings and carabiners for attachment
TUF WEAR brand
Colour: two-tone
Features of TUF WEAR Balboa Angle Bag (4ft)
Durable artificial leather
The punching bag Balboa Angle Bag 4ft consists of a PU upper material. The imitation leather convinces with high durability, easy care and a good price-performance ratio.

Realistic shape
Very typical of an angle punching bag, the Balboa Angle Bag 4ft punching bag has a shape that is based on the human body. So you can train very realistically.

Secure attachment
Of course you have to be able to rely on your boxing equipment when boxing. The angular punching bag has stable metal rings and a carabiner for attachment.

TUF WEAR brand
Boxing like Rocky Balboa. With the punching bag Balboa Angle Bag 4ft by TUF WEAR you get a punching bag from the most famous boxing brands in film history. Above all, you ensure a high level of quality.

The TUF WEAR Balboa Angle Bag 4ft punching bag is ideal for
Realistic training sessions
Varied boxing training
Improving punch combinations, especially uppercuts
Endurance and coordination training
Reaction and speed training
Product details at a glance
Punching bag made of durable artificial leather
body-like shape
Length: approx. 121 cm (4 ft)
2 color design
Fastening with metal rings, sewn
Hanging chains included
Versatile boxing training with the Balboa Angle Bag (4ft)
Your trainer is not available? Would you like to train at home? The Balboa Angle Bag 4ft by TUF WEAR is your perfect training partner for every day. The punching bag made of hard-wearing synthetic leather withstands each of your punches. Because the punching bag is wider at the top and narrower at the bottom, it imitates the human physique so that you can ideally train your various punch combinations - absolutely realistic! This makes the Balboa Angle Bag 4ft - also angle punching bag - indispensable in your preparation for the competition or if you want to take your boxing training to a new level. Uppercuts in particular are ideal for training on the Balboa Angle Bag 4f - yes, perfecting them. This really brings variety to your boxing unit and makes you a champion in the ring. Another advantage of the robust, smooth upper material: You can easily clean and care for the Balboa Angle Bag 4ft punching bag.
A training partner of size
Oh yes, the Balboa Angle Bag 4ft punching bag proves greatness on multiple levels. Of course it is quite long at 4ft - approx. 121cm in length is ideal for normal and very tall people. But when it comes to safety, the angular punching bag is a real big hit. Sturdy metal rings are sewn to the upper edge, to which you can securely attach the Balboa Angle Bag 4ft punching bag. A carabiner is also available for secure anchoring to the ceiling. Of course, you should check in advance whether the ceiling construction is suitable for the load from the punching bag.
FAQs
What is so special about angular punching bags?

Angle punching bags have been specially developed to optimize the training of uppercuts - i.e. uppercuts. The special feature is the curve in the upper area of ​​the punching bag, so that its shape resembles that of a human body. The advantage of angle bags is a training that is as realistic as possible.

What size should a punching bag be?

The size of the punching bag should be chosen primarily depending on your height and the type of boxing you do. In classic boxing, you usually use shorter and thicker punching bags than in kickboxing, where you also practice kick combinations on long punching bags. Most punching bags in classic boxing have a length of up to approx. 120 cm.

For whom is a 120 cm long punching bag suitable?

Punching bags with a length of 120 cm, such as the Balboa Angle Bag 4ft punching bag, are the right choice for tall boxers. Due to the length, individual punch and kick combinations can also be practiced.

---