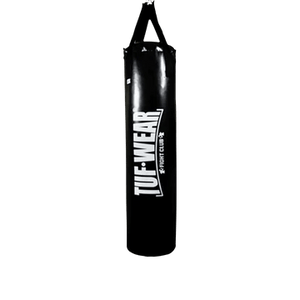 Tuf Wear
PU punching bag standard 122 cm (4ft)
Normal price
$142.00
Special Price
$164.00
unit price
per
TUF WEAR PU Punching Bag Standard (4ft)
The robust heavy bag for at home, gym or boxing studio - an all-rounder for many areas of application.

PU punching bag Standard (4ft) by TUF WEAR
Durable faux leather
Length approx. 122 cm
Filling made from scraps of fabric
Includes fabric straps for hanging
TUF WEAR brand
Properties of TUF WEAR PU Punching Bag Standard (4ft)
Practical punching bag
With a length of approx. 122 cm (4ft), the punching bag is already one of the larger models in classic boxing. With a weight of approx. 28 kg, the punching bag is ideal for boxers with a body weight of 50 to 75 kg. Here you have a high variance - also in terms of the intensity of the training.

Durable material
Punching bags made of synthetic leather (PU) have more than proven themselves in both amateur and professional boxing. The material is characterized by its high durability and resilience.

Easy care
A surface made of imitation leather also offers the advantage that the material can be cleaned very easily and without special agents. This also contributes to the long service life of the TUF WEAR PU punching bag standard (4ft).

Fast attachment
The punching bag has sewn-on straps for hanging, which can be quickly attached to a chain or device using carabiners, for example. So you can start training straight away.
TUF WEAR PU Punching Bag Standard (4ft) ideal for
Classic boxing training
Improving punching power and technique
Fitness and endurance training
Product details at a glance:
Material: artificial leather (PU), approx. 1.2 mm thick
Filling: Cloth remnants (scanned for metallic objects)
Length: about 122cm (4ft)
Weight: about 28 kg
Diameter: approx. 33 cm
Color: Black
Attachment with 4-point belt
TUF WEAR brand
An all-rounder in the boxing booth
The TUF WEAR PU punching bag standard (4ft) is a good choice for setting up your home boxing studio or for training variety in the gym. Because the punching bag is relatively long at 122 cm, but quite light at around 28 kg (compared to its length). This offers many different boxers the opportunity to work out on the TUF WEAR PU punching bag standard (4ft). A moderate training is possible for boxers up to 60 kg. If you weigh a little more, you can use the heavy bag made of imitation leather for speed training or cardio units. The TUF WEAR PU punching bag standard (4ft) has a 4-point belt for attachment to the ceiling.
Robust artificial leather - free from animal suffering!
A punching bag with a faux leather upper, like the TUF WEAR PU Punching Bag Standard (4ft), offers several advantages - in terms of care, price, and animal welfare. This is how you train with the TUF WEAR PU punching bag Standard (4ft) on a punching bag free of animal suffering, without having to do without a robust, hard-wearing heavy bag. Your blows are reliably absorbed - by the soft filling made of fabric remnants and the approx. 1.2 mm thick PU coating. Furthermore, artificial leather is very easy to clean - special care is hardly necessary, as moisture and dirt can be easily removed. Last but not least, you can feel the artificial leather in the price of the TUF WEAR PU punching bag Standard (4ft).

FAQs
What advantages does a PU punching bag offer me?

Punching bags made of imitation leather are by no means inferior to punching bags made of real leather. They are also considered to be very robust and resilient. In addition, no animal products are used for artificial leather. The easy cleaning and the low price also speak for a punching bag made of PU synthetic leather.

How big does a punching bag have to be?

Basically, it depends a lot on what boxing sport you want to pursue. In classic boxing, punching bags between 80 and 120 cm are usually used. For particularly tall boxers there are also longer punching bags - similar to kickboxing.

How heavy does a punching bag have to be?

When considering the weight of the punching bag, you should consider your body weight and your punching power as well as your training goal. You don't need a lot of punching power on a light punching bag, but you can train your speed very well. For a heavy punching bag you have to use a lot of strength, but it promotes your stamina.

---