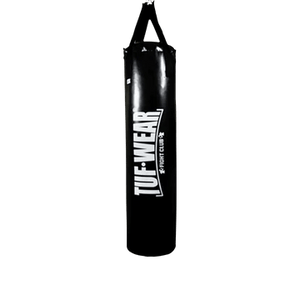 Tuf Wear
PU punching bag standard 182 cm (6ft)
Normal price
$160.00
Special Price
$187.00
unit price
per
TUF WEAR PU Punching Bag Standard (6ft)
The PU punching bag standard (6ft) measures an incredible 182 cm in length. Exactly the right choice for punch and kick combinations in boxing training.
Durable faux leather
Length approx. 182 cm
Ideal for tall people / kick training
Sturdy sewn fastening straps
TUF WEAR brand
Properties of PU punching bag standard (6ft)
Super long punching bag
With the PU punching bag standard (6ft) you really get a super-long heavy bag. Because the punching bag measures an impressive 182 cm in length. This allows you to perfect punch and kick combinations.

Durable upper
The combination of artificial leather and a thin PU coating makes the PU punching bag standard (6ft) very durable. The upper is robust and durable.

Free from animal suffering
Another advantage of artificial leather: no animal had to suffer for the PU punching bag standard (6ft) from TUF WEAR.

Stable suspension
If you want to hang up the approximately 36 kg heavy punching bag, you can do this using a D-ring on the 4-belt. Always make sure that the ceiling construction or bracket is secure.

TUF WEAR PU Punching Bag Standard (6ft) ideal for

Classic boxing training (big boxers)
Kickboxing and Muay Thai Boxing
Freefight
Fitness boxing training for home
Product details at a glance:

Material: artificial leather, approx. 1.2 mm thick PU coating
Color: Black
Length: 182cm (6ft)
Weight: about 36 kg
Diameter: approx. 35 cm
Filling: Cloth remnants (scanned for metallic objects)
4-point harness for attaching to the D-ring
TUF WEAR brand
The ideal punching bag for punching and kicking exercises
Whether you're looking for a super-long punching bag to train both punching and leg exercises, or you're just one of the super tall boxers: The PU punching bag standard (6ft) is your choice! Its length is 182 cm and thus goes far beyond the standard size in classic boxing. You can definitely test your punching techniques and kick combinations on this super long punching bag. The durable synthetic leather and the approximately 1.2 mm thick PU coating are guaranteed to withstand your strength and ensure a long-lasting punching bag. Thanks to the filling made of clean fabric remnants, punches and kicks are gently cushioned, which reduces the risk of injury. Despite its 6ft length, the TUF WEAR PU standard punching bag is a real lightweight at around 36 kg. The punching bag is therefore well suited for athletes with a body weight of 70 kg or more.

Safety first - at all levels
Safety is a key word with the TUF WEAR PU Punching Bag Standard (6ft). Because on the one hand you have protected an animal's life with the imitation leather punching bag. On the other hand, you get a safe punching bag, which you can reliably attach to the D-ring thanks to sturdy sewn straps. After unpacking, you can start training straight away - provided the ceiling or bracket is designed for the weight of approx. 36 kg.

FAQs
Which punching bag is right for me?

With each model, you should consider whether the size, weight and material suit your training goal and you as a person (height, body weight, power of impact). Fortunately, you have a wide range to choose from.

When do you train on super long punching bags?

In classic boxing, you usually train on punching bags between 80 and 120 cm. Longer punching bags are particularly suitable for tall boxers or all those who want to incorporate not only punches but also kick combinations.

How expensive does a good punching bag have to be?

You can get good punching bags for a reasonable price. In particular, punching bags made of imitation leather convince with a good price-performance ratio. The larger and heavier the punching bags are, the more expensive they are.

Der 6ft PU Boxsack von Tuf Wear ist die Creme de la Creme der Boxsäcke
Der 6ft PU Boxsack von Tuf Wear ist die Creme de la Creme der Boxsäcke. Dieser Boxsack aus Leder ist eine der hochwertigsten Boxsäcke, die jemals hergestellt wurden und sieht wunderschön aus.
---