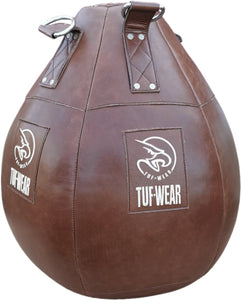 Tuf Wear
TUF WEAR Wrecking Ball Genuine Leather Classic Brown
Normal price
$428.00
Special Price
$493.00
unit price
per
TUF WEAR Wrecking Ball Genuine Leather Classic Brown
Genuine leather
Classic Brown Collection
Filling with real corn
Attachment with 4-hook chain (sold separately)
TUF WEAR brand
Features of Wrecking Ball Genuine Leather Classic Brown
quality
With the genuine leather upper, TUF WEAR ensures that you get an absolutely high-quality product for your boxing training. The cowhide is durable and will definitely withstand your regular hitting practice.

old school
The cowhide in light brown tanning exudes the flair of bygone days. Just the right design for an "old school" boxing studio.

shock absorption
A layer of foam has been placed between the cowhide leather upper and the corn filling to better absorb the impact on your wrists and elbows.

security
Four D-rings, which are firmly sewn to the upper end of the large wrecking ball, ensure a high level of security when it is attached to the ceiling.

TUF WEAR Wrecking Ball Genuine Leather Classic Brown ideal for
Training uppercuts and hooks
Improving condition and mobility
Practice different punch combinations
Product details at a glance
Material: cow leather
Colour: classic brown
Filling: corn (resistant to corn weevils)
Foam jacket between upper and filling for shock absorption
Classic Brown collection with old school design
4 D-rings for attaching a 4-hook chain (sold separately)
TUF WEAR brand
The big wrecking ball for training variety
If you want to improve your uppercuts and hooks , the TUF WEAR Wrecking Ball Genuine Leather Classic Brown is the right choice. In contrast to the classic heavy bag, you can use the large wrecking ball to optimally train different hitting techniques from different angles. This is otherwise only possible on an angle punching bag. In addition, thanks to the high pendulum behavior of the wrecking ball, you can ideally train your speed and accuracy at a distance. With short, fast strokes you reduce the pendulum and achieve good training success.
High TUF WEAR quality
When you hit the wrecking ball with your fast straights and short hooks, it's important that the material holds up. The TUF WEAR Wrecking Ball is made from genuine cowhide leather , which has a long service life thanks to its high durability. A layer of foam has been placed between the leather surface and the real corn filling (resistant to corn weevils). This ensures better shock absorption and protects your fingers and joints when you train with the TUF WEAR Wrecking Ball Real Leather Classic Brown. The TUF WEAR Wrecking Ball real leather Classic Brown is delivered completely finished - you only need a 4-hook chain for ceiling attachment to the 4 D-rings at the top end.
How do you train on a wrecking ball?
The wrecking ball is mainly used to train fast and short punches. By regulating your power, you can influence the pendulum behavior. Due to the size of the wrecking ball, the focus is on headshots, straights, and uppercuts.
What are the advantages of a genuine leather punching bag?
Genuine leather punching bags are considered premium. Real leather such as cowhide is considered to be very hard-wearing and therefore long-lasting. It doesn't tear as easily and remains robust even with hard hits.
How do you properly attach a punching bag?
Punching bags like the TUF WEAR Wrecking Ball Genuine Leather Classic Brown have securely sewn D-rings to which you can attach a 4 or 6 metal hook chain. You can then simply hook it into the appropriate ceiling mount.
---